<![if !vml]><![endif]>
© Janet Davis
It's a hot August afternoon and in the little garden, butterflies dance through the cosmos, bees hover over the thyme and plump red tomatoes hang from neatly staked vines.  The raspberry canes have been picked clean but the cucumbers are almost ready and scarlet runner beans climbing the house wall are still coming on.
Not remarkable perhaps, as vegetable gardens go, but on this quiet street in north Toronto's Moore Park where a manicured lawn is still the norm, a front yard bursting with tomatoes and a boulevard planted with an apple tree prompts a double take.  
But this quirky little garden happens to belong to the only landscape architect to be given the award for "architecture and design" <![if !vml]>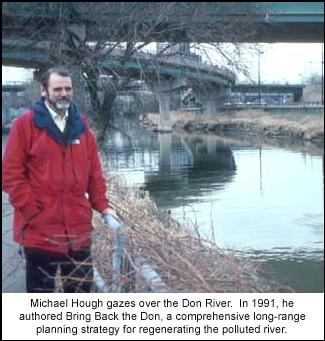 <![endif]>at the Toronto Arts Awards.  The man who helped initiate Canada's first undergraduate degree program in landscape architecture.  Who's chaired task forces and authored strategy reports charting the future of everything from the Don River to Lake Ontario's waterfront to the Niagara escarpment. 
And though he loves gardening, what Michael Hough is growing in his front yard in Moore Park is really a message—an edible manifesto, writ in vegetables.  What it proclaims has less to do with advancing the cause of city farming than with questioning the skewed aesthetics and bylaw-enshrined design conventions that have made cookie-cutter clones of front yards throughout North America.  
Fighting the Anyplace Syndrome
It's this "anyplace syndrome"—every place, to its detriment, managing to look the same as anyplace else—for which Michael Hough is known.   And it's a question he attempts to answer in his university classes, on the international lecture circuit, through his landscape designs, as a community-based environmental activist and in his writing, specifically in his award-winning books Out of Place (Yale University Press) and Cities and Natural Process (Routledge, 2004, 2nd Ed.)
So who is Micahel Hough anyway?
He was born in 1928 outside Nice, France, his father a British diplomat, his mother the daughter of France's Commisioner of Customs in China.   While his parents moved from one diplomatic post to another, their son grew up in English boarding schools, with the occasional summer spent in les Alpes Maritimes helping his uncles harvest carnations for the Paris flower market.  Following a 2-year stint with the British Army, he attended the Edinburgh College of Art on scholarship, receiving his diploma in Architecture in 1955.   
"I wasn't very good at architecture" Hough recalls now, disclosing something more deep-seated than the traditional philosophic chasm between architecture and landscape architecture.  "I really didn't understand what the hell they were talking about. And it's only rather recently that I concluded perhaps they didn't either."
He worked briefly in an Edinburgh architecture practice before following mentor Ian McHarg, author of the ground-breaking 1969 book Design with Nature, to the University of Pennsylvania, where he earned a Masters Degree in Landscape Architecture.
In 1959, Michael and Bridget Hough brought their young family to Canada where he took a position teaching at the University of Toronto.  The years from 1963 to '66 were spent developing U of T's undergraduate degree program in Landscape Architecture, only the second in Canada after the University of Guelph, which had initiated their program in 1964.    Meanwhile, his young design firm, then called Hough, Stansbury & Associates, which had just completed an award-winning master plan for the grounds of Scarborough College, embarked on a project that would brilliantly articulate his ecological approach to landscape design. 
Ontario Place:  "As if God had been the landscape genius."
Architect Eberhard Zeidler recalls how Hough joined the Ontario Place design team in 1969, as they were struggling with the problem of how to design the islands that would connect their lake Pavilion to the Canadian National Exhibition grounds. "The result was islands and planting which looked as if God had been the landscape genius.  From no one place could you see everything at once.  One had to walk and explore.  As you walked, you encountered different activities, and on the west shoreline there was simply quiet and solitude.  The original Forum was nestled between trees to dovetail with the seating areas and the banks surrounding it to create a wonderful ambience for evening concerts." 
"The concept was to create an urban park which, despite its density, would seem natural," says Zeidler. "Michael fulfilled this admirably.  The 1975 International Design Award in Los Angeles was given to him and our team for the feeling that was created there and Ontario Place has enjoyed his triumph for over a quarter of a century.  However, with the recent changeover into an amusement project, this feeling is more and more disappearing." 
The "amusement project" of course, is MCA Concerts' Molson Amphitheatre, a hulking 16,000 seat steel and glass venue built on land the company leased from Ontario Place.  Its construction involved massive changes to the landscape, the felling of more than 250 trees—and the end of Hough and Zeidler's intimate little valley Forum, which could only seat half the number of paying spectators as the new amphitheatre.  Says Michael Hough, "Architecturally speaking, this new building has completely destroyed that quality of green pastoral islands.  In any other place, it might okay, but beside Eb's buildings, it strikes a discordant note." 
Bill Granger, former Chair of the Metropolitan Toronto Regional Conservation Authority, was a graduate student in Environmental Studies in the late 70s at York University.  Hough, who'd left U of T and moved to York's new faculty in 1971, had been his professor and faculty adviser.  Granger recalls how unhappy his mentor became with the way Ontario Place was maintained.  "Michael was always disappointed with the hillsides, which were meant to be evolving natural landscapes with early pioneer plant materials, sumac and that kind of thing, that would evolve into a Lake Ontario woodland.  But the maintenance staff wouldn't let that happen.  They kept going in and taking out any tree that seeded in.  If they'd left it alone, by now it would have been a really marvellous woodland.  But as it is, it's a fairly static landscape with the original plantings manicured and clipped and kept heavily gardened." 
 Revisiting Places and Concepts
<![if !vml]>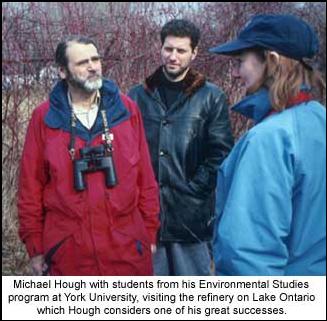 <![endif]>But if Ontario Place has disappointed Hough, another lakefront landscape miles west stands as a brilliant testament to his design philosophy:  set the framework, do as little as possible, and let nature do the rest. The Gulf Canada Clarkson Refinery, now owned by Petro-Canada, was a barren moonscape in 1975 when Hough was asked to buffer the vast storage tanks and facilities from the gentrified Mississauga neighbourhood to the east. The budget was huge, mature trees were dropped in to create an instant woodlot, hills were bulldozed into place and ponds filled.  Over the years, a forest of willows and dogwood sprouted and deer adopted the place as their own. 
For Hough, however, the biggest achievement here has been his annual consultation with the neighbouring community and the client.  "The collaborative process has gone on for twenty years.  From initial conflict and confrontational politics, it has developed to a very benign and friendly approach.  It's that commitment, the fact that I'm still involved, that's allowing me to prove a lot of points that are very difficult to prove when you're moving from job to job." 
Revisiting an earlier concept to assess its relevance is something that distinguishes Hough from many in the design world.  It is also a hallmark of his writing.  His classic Cities and Natural Process is in its second (July 2004) edition by Routledge.  An updated version of his 1984 classic, City Form and Natural Process: Towards a New Urban Vernacular, it revisits case studies cited in the original, which received an Honor Award from the American Society of Landscape Architects.  Like Hough's second book, Out of Place, published in 1990 by Yale University Press, it has gone on to become an internationally recognized text for students of landscape architecture and urban planning.  
<![if !vml]>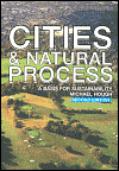 <![endif]>In City Form, he had deplored the use of the lawn as a universal design application.  "As a high-cost, high-energy floor covering, it produces the least diversity for the most effort.  As a product of a pervasive cultural aesthetic, it defies logic." 
He also wrote how climate could be ameliorated in downtown cores through the use of rooftop landscapes and described cities where civic ordinances were used to establish acceptable levels of tree canopy.  He explained the need for alternative sewage treatment technologies such as waste water crop irrigation, use of retention ponds and marsh ecology, and he numbered the advantages of restoring "ecosystems"—native plant and wildlife communities.    
In fact, much of what Hough advocated in the book is now slowly gaining acceptance in enlightened cities, including his own.  Design alternatives to the front lawn such as groundcovers and native wildflowers have become increasingly popular.  "Ecosystem planning" is the operative buzzphrase at city hall, and Toronto has spent several years naturalizing vast tracts of parkland and begun restoring native plant communities in its ravines.  A few years ago, city council even passed a bylaw protecting the tree canopy by prohibiting removal of large trees on private property without a permit.  Although rooftop landscaping as an ecological notion is still more commonplace in the Netherlands and Germany than in North America, that's changing as well with the green roof movement gathering more disciples.  And finally, a wetland marsh the size of seven football fields has been created south of the Bloor Viaduct to assess, among other things, whether marsh ecology can reduce pollution in the lower Don. 
In espousing a framework of biological principles, rather than mere ornamental objectives, as the basis for landscape architecture, Hough was one of a few early radical voices in North America.  That, combined with the widespread environmental shift since the 1970s and recent economic pressures that have forced cities to rethink urban planning issues like stormwater drainage and park maintenance has moved Hough's field of ecological design into the forefront. 
A Gentle Revolutionary
For those who've worked alongside him, there is a sense of having encountered a modern-day pioneer. "Over the past few years," former Toronto mayor and waterfront guru David Crombie said in April 1992, looking out on the black-tie audience at the Toronto Arts Awards, "I've had the opportunity to work with Michael Hough and I've come to know at least three things about him."  
"He loves cities, he loves nature, he insists on a link between the two, and he'll tell you, every day if you ask him, that the regeneration of one is the salvation of the other.  He loves ideas and his ideas always surprise you.  They startle you at the start, because they're new, but after a while they become inevitable.  He is, I think, a gentle revolutionary."  
Crombie had hired Hough in 1988 as a consultant to his Royal Commission on the Future of the Toronto Waterfront, later appointing him Chair of the Environment Work Group studying the future of the Lower Don Lands.  Then in 1991, Hough authored Bringing Back the Don, a comprehensive long-range planning strategy for restoring the polluted Don River, which would be the principal report of the Task Force to Bring Back the Don and garner its author a Canadian Institute of Planners Award for Planning Excellence.   The report touched on everything from complex hydrological changes to improve the river's flow, a plan for reforestation of its banks, the introduction of marshes into its delta and mechanisms (such as the access stairways which have since been built) for bringing people back to its shores, and making them conscious that—abused and neglected though it might once have been—a beautiful river flows there.
The same year that he accepted the Arts Award, at the age of 64, Hough kept up a brutal schedule, fulfilling his committee work, designing landscapes, and heading back to York to teach full-time.  He also found time to address the International Symposium on Design Review in Cincinnati; gave the memorial lecture at the University of Georgia; addressed the American Society of Landscape Architects in Washington D.C.; spoke at the University of Texas; presented to the Institute of Park and Recreation Management in South Africa; participated in two naturalization workshops in Alberta; and addressed the American Planning Assocation in Colorado.
His speaking engagements revolve around two trademark themes:  the meaning of "place" and the need to bring nature back into the city.  And he might work in the "paradox of two landscapes".  The first is the scrupulously-groomed landscape of civic pride exemplified by the showpiece median on Toronto's University Avenue.  The second is the abandoned field where the maintenance man has forgotten to go. 
"These two landscapes" says Hough, "pose some wonderful kinds of quandaries.  On the one hand, you've got a landscape that people have forgotten and yet is incredibly rich, diverse and supports all manner of  wildlife.  The other landscape of civic pride is totally sterile, has no diversity, and is totally inedible."  It is a paradox Hough hammers home as often as he can, wherever he can.  But it would be impossible, he acknowledges, to travel the globe as a roving environmental ambassador or to have returned to teaching full-time without brilliant young partners and several associates doing the bread-and-butter design work and paying the bills at the office.
  Principled Pragmatism and Tailored Solutions
Michael Hough's business partners are a generation younger than him, but none fits the earnest Birkenstock-and-granola stereotype of wild-eyed environmentalist. (Note:  the company structure and ownership have changed significantly since this story appeared in the 1997 issue of Toronto Life.)  
Carolyn Woodland is president of the firm, an elegant, self-assured woman whom Hough describes as "incredibly talented, well-spoken and very well-organized".  (Note:  Woodland is now Manager, Development Services, of the Toronto and Region Conservation Authority).  She joined when Hough was struggling to refine his own philosophy, defending his principles to sometimes skeptical clients and evolving out of the mainstream of landscape design.  "He could be difficult then" she says.  "He was in his own world and you just didn't want him over your desk, but he's mellowed now.  Keep in mind that in the architectural community, you can be the greatest planner and visionary, but you have to test your philosophy by building things and making them work.  With every new project that came along, we made sure it worked, and if it didn't, we corrected it." 
Eha Naylor joined in 1980, a landscape architect and MBA who, like Woodland, is brainy and beautiful. Typical of the work-with-nature philosophy instilled by Hough (but refreshingly unusual in the design world) she says her role is often to meet with the client and "determine whether there really is a need for a design solution" rather than taking a more nature-based approach.  One of her functions is to appear at Ontario Municipal Board hearings on behalf of provincial government ministries or municipalities in the public sector, to negotiate alternative site plans for large-scale housing developments.   Naylor too has seen a mellowing in Hough, a willingness to compromise that comes from working with community groups like the Don Task Force.  "He says as long as we maintain our principles, solutions can be tailored to meet each client's needs."      
Ian Dance is the third partner, a Ryerson graduate and now sessional instructor there, whom Hough calls "probably the best designer I've ever had". 
Although the firm has done its share of conventional landscapes (a sophisticated downtown parkette for SunLife, the University Avenue courthouse mall, the master plan with the Garden Club of Toronto for the Casa Loma garden renovation, a landscape for IBM's administrative offices) it is "restoration", the task of returning a site as near as possible to its natural state, for which it is renowned.    Recent projects have included transformation of a polluted section of Charlottetown waterfront into Confederation Landing Park.  The master plan for the Brickworks Regeneration Project in the Don Valley. Two unique courtyards—one a boreal forest, the other a deciduous woodland -- outside the Earth Sciences Building at the University of Toronto.  Remedial work on a 1.5 kilometre stretch of shoreline in Burlington's Lasalle Park which incorporates engineered coastal islands of tree roots, brush and timbers emerging from the breakwater to provide new fish-spawning areas and bird habitats.  The Cobourg waterfront.  A master plan for the motel strip on the Etobicoke waterfront.  
And in September 1995, the Waterfront Regeneration Trust under David Crombie published Restoring Natural Habitats, co-authored by Hough, Woodland Naylor, DanceouvHoug and Gore & Storrie Ltd., to provide assistance to those engaged in habitat restoration in Greater Toronto.
"Michael would probably be very happy," admits Woodland, "teaching, writing his books, doing research, selectively picking two or three of his causes—the lower Don lands or whatever—and going off to international conferences.  We keep pulling him back, saying if you really are going to preach this, you've got to figure out a way to work with developers, make sure it's economically viable, keep at it and stay grounded.  You've got to able to convince a whole range of people that it works." 
"We all work very hard here," she says, "But Michael works all the time and loves it.  He's not interested in sitting around being idle.  He just has amazing energy, intellectually and physically, to keep up with."
Sitting on his deck in the filtered shade of a crabapple tree planted long before native species became de rigueur in an environmentalist's garden, Michael Hough sips his wine and gazes out through the long, leafy bower of trees and shrubs in the back yard. The garden, which he designed and built more than thirty years ago, is a hundred feet long and twenty wide, divided by a narrow boardwalk running the length of the property.  Along the way is a tiny pond, another deck with a vine-covered pergola for a roof, thickets of downy dogwood and witchhazel, a terrace made of brick reclaimed from the old mental hospital on Queen Street.   There's a baby balsam fir brought down from the family cottage  near Huntsville where he and Bridget pick blackberries; where books are read and carpentry done by lamplight, because there is no power. 
He talks about the firm.  "I think my role is changing there.  I still do a lot of work, but not as much as many of the others do.  It's stuff that I particularly want to do, like that little project down at the University of Toronto, which is small, but I think a gem."  And he reflects on his work with the Don, and concedes that it might take a hundred or more years before the river regains the dignity it once knew.  
"Maybe that's why I enjoy carpentry so much, because I get to see things finished."  He pauses, then adds, "But I think life comes to an end when you stop worrying about things."             
Adapted from a 1997 article in Toronto Life magazine