<![if !vml]>

<![endif]>
<![if !supportEmptyParas]> <![endif]>
© Janet Davis
<![if !supportEmptyParas]> <![endif]>
My favorite garden in Toronto – and one I retreat to with my camera at every opportunity -- is Spadina House.  The house and property have a long and storied history, a past that is well-documented in books and <![if !vml]>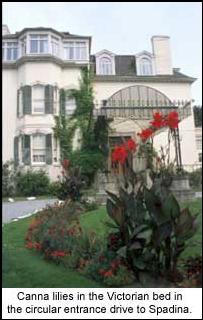 <![endif]>historical records. 
<![if !supportEmptyParas]> <![endif]>
It begins in 1818,  when Dr. William Baldwin, an Irish-born lawyer, doctor, schoolmaster and eventual two-term assemblyman in the town of York (later to be called Toronto), built a two-storey frame house on a 200-acre farm concession he had inherited from his wife Phoebe's father, William Willcocks.  The property on which the house stood stretched north into what is now Forest Hill and had been severed from an earlier 900-acre concession called Petersfield. 
<![if !supportEmptyParas]> <![endif]>
The view from the upstairs window over Davenport Hill to the town of York in the south would have been a breathtaking panorama of rustic settlements and pristine woodland right to the unpolluted shores of Lake Ontario.  The hill, an escarpment formed by the shore of Lake Ontario's ice age predecessor, Lake Iroquois, was the inspiration for the new house's name.  In an 1819 letter, Dr. Baldwin wrote: "I have a very commodious house in the country.  I have called the place Spadina – the Indian word for Hill or Mont." 
<![if !supportEmptyParas]> <![endif]>
His new home's name was actually an anglicization of the Indian word ishapadenah, which meant "hill" or "rise of land" and its  correct pronunciation is Spa-dee-na.   Using a width of two chains (132 feet), Dr. Baldwin also laid out Spadina Avenue itself from Queen Street north to Davenport.  In 1837, Lieutenant-Governor Bond Head ordered the extension of the road further south, almost to the lake.
<![if !supportEmptyParas]> <![endif]>
<![if !vml]>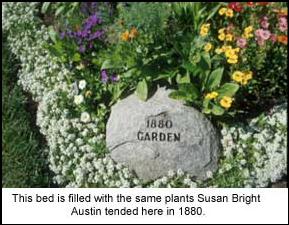 <![endif]>When Dr. Baldwin's house burned to the ground in 1835, he built another, smaller house on the site the same year, moving his primary home to his property on Front Street in York and retaining Spadina as a country house. 
<![if !supportEmptyParas]> <![endif]>
The next Spadina resident was the Hon. Robert Baldwin, William's son, also a politician.  Robert's later years appear to have been spent in reclusion in a cottage behind the main house, mourning the death years earlier of his young wife.
<![if !supportEmptyParas]> <![endif]>
In 1866, the property –  now reduced to 80 acres – was bought for  £3,550 by James Austin, another Irishman who would soon assume the presidency of both Consumers' Gas Company and the Dominion Bank.  He and his wife, Susan Bright Austin, rebuilt Spadina in grand style to the house it is today.  It became home to four generations of Austins.
<![if !supportEmptyParas]> <![endif]>
Today's Spadina

 
<![if !supportEmptyParas]> <![endif]>
<![if !vml]>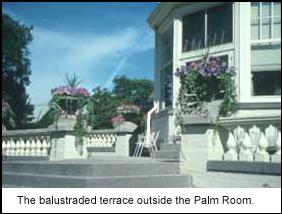 <![endif]>In 1982, the property was purchased by the City of Toronto and the Ontario Heritage Foundation.  It was placed under the management of the Toronto Historical Board, which moved immediately to restore the house and grounds as a museum of life in Victorian and Edwardian Toronto.
<![if !supportEmptyParas]> <![endif]>
The Garden club of Toronto refurbished the gardens, using historically appropriate plants where possible.  Family records helped it faithfully recreate fifteen decades of changing garden styles.
<![if !supportEmptyParas]> <![endif]>
Wendy Woodworth, senior horticulturist with Heritage Toronto (the renamed Toronto Historical Board) is responsible for planting and maintenance of Spadina's gardens.  It is a labor of love; the gardens are enchantingly beautiful without that regimental sameness to which public gardens seem to fall prey.  <![if !vml]>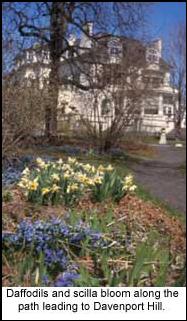 <![endif]>Caring for the 5.75-acre grounds and keeping the house supplied with plants and flowers is a big job, so she relies on a few full-time workers and volunteer help from the community and members of The Garden Club of Toronto.
<![if !supportEmptyParas]> <![endif]>
Touring the Gardens
<![if !supportEmptyParas]> <![endif]>
Start your tour outside the fieldstone-encrusted wall, built in 1912, at the crest of a staircase rising up Davenport Hill.  Look south and you get a bird's eye view of Spadina Avenue stretching toward the lake like an arrow.  In 1867, long before neighboring Casa Loma was built, James Austin and his family sat on the brow of this hill and watched the fireworks celebrating Confederation. 
<![if !supportEmptyParas]> <![endif]>
Walk through the gate into the property and you find yourself on a carriage drive circling a teardrop-shaped flowerbed, resplendent in summer with formal, Edwardian-style plantings using bright flowers such as canna lilies.  Take a counter-clockwise direction and you soon find yourself looking up a balustrade-lined terrace outside the Palm Room on the house's main floor.  Dating from 1905, this sunny conservatory-like room contains geraniums, tropical plants, spring bulbs and bougainvillea, depending on the season.  All the plants are coaxed into bloom in Spadina's 1913 greenhouse.  The balustrade on the terrace outside has big urns filled with annuals; the beds around the terrace contain old-fashioned roses.
<![if !vml]>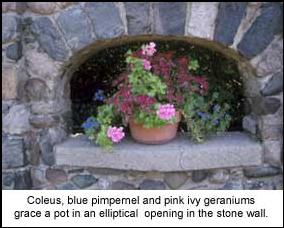 <![endif]>
Immediately south and adjacent to the main gate is an English flower garden, now filled with shade-tolerant plants that thrive under the mature canopy of oaks and horse chestnuts.  Along the inside of the east boundary wall stretches a cinder path believed to be the old footpath to Davenport Road.  In april, little stands of scilla and daffodils and plum-colored hellebores poke through the fallen oak leaves here.
<![if !supportEmptyParas]> <![endif]>
Separating the "pleasure ground" at the front of the house from the "working gardens" behind is a unique stone wall, pierced with elliptical openings, each containing a planter box filled with a profusion of annuals.  Shrub roses like Father Hugo's rose (R. xanthina) bloom on the south side of the wall in spring.  On the wall itself are climbing plants such as Rosa  'Clair Matin', blue morning glory and a billowing sweet Autumn clematis (Clematis terniflora). 
<![if !supportEmptyParas]> <![endif]>
The northwest part of the property contains the greenhouse and bottom-heated coldframes in which annual seedlings are either started or hardened off.
<![if !vml]>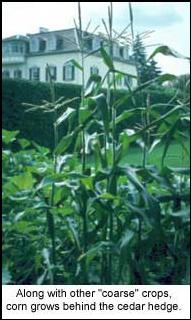 <![endif]>
The wire-trained grape arbor bisects this area from north to south, passing through the old apple orchard which still contains some of the original trees, now some 90 years old; varieties like 'Red Astrachan', 'St. Lawrence' and 'Snow'.  The orchard is renewed with grafted heritage stock from the Ministry of Agriculture's Apple Museum in Vineland. 
<![if !supportEmptyParas]> <![endif]>
Beyond a cedar hedge are the "coarse" vegetables like corn and squash, as well as bush fruits such as currants, gooseberries and Latham raspberries.  In a good year, the berries will be bottled up as preserves in the old-fashioned kitchens of Spadina House itself. 
<![if !supportEmptyParas]> <![endif]>
The Kitchen Garden
<![if !supportEmptyParas]> <![endif]>
But it's the kitchen garden to the northeast of the house where I believe every gardener will find something inspiring.  In front of the site of the Baldwin cottage, long gone now, <![if !vml]>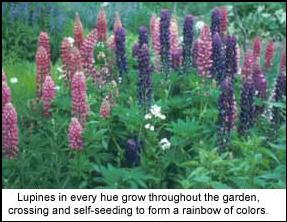 <![endif]>where Robert Baldwin spent his last years and where Susan Bright Austin lived after her husband's death, are two gardens filled with the same plants she tended there in 1880:  Sweet William, pinks, amaranthus, foxgloves, bergamot, and pearly everlasting.
<![if !supportEmptyParas]> <![endif]>
Beyond is the large kitchen garden:  four squares divided by cinder paths, surrounding a central portion planted with some especially noble specimen.  In past years, it was a giant castor bean (Ricinus communis).
<![if !supportEmptyParas]> <![endif]>
The four quarters contain a combination of herbs and the "attractive" vegetables such as tomatoes, beans, carrots and cabbages, surrounded by perennial and annual flowers, some modern and some old, that are suitable for cutting.  This supplies the house with a season's <![if !vml]>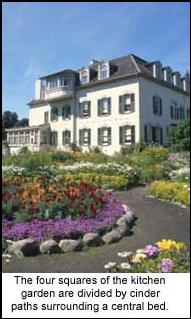 <![endif]>worth of floral arrangements.
<![if !supportEmptyParas]> <![endif]>
The kitchen garden is a wonderful lesson in making an informal cottage garden work aesthetically in a beautiful explosion of color and juxtaposed forms.  Take your notebook any day of the week from mid-spring until early autumn and note the myriad stunning plant combinations.
<![if !supportEmptyParas]> <![endif]>
In spring, the rosy blooms of a big honeysuckle sweep a floor of forget-me-nots, tulips and white star-of-Bethlehem.  Later, fuzzy alliums rise from a carpet of acid-yellow lady's mantle; shy bleeding heart flowers; and blowsy pink and white peony blossoms nod under their own weight.  Lupines in every hue grow throughout the garden in June, crossing and self-seeding to form a rainbow of colors, and sky-blue delphiniums lean into the ivory plumes of goatsbeard.
<![if !supportEmptyParas]> <![endif]>
Bees and butterflies dance from flower to flower in this magical garden, where nothing seems contrived or planned, save the neat, straw-lined rows of strawberries that get harvested for the annual strawberry tea in late June.  The tea is when Spadina puts out the welcome mat for visitors, with delicious strawberry shortcake and iced tea and roving <![if !vml]>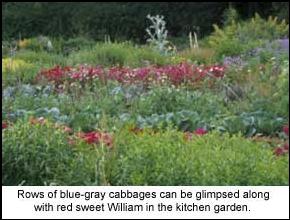 <![endif]>Dixieland musicians.
<![if !supportEmptyParas]> <![endif]>
As summer arrives, there are glistening bearded irises, bright poppies, columbine and sweet rocket.  Later, there are yellow and white daisies, purple coneflower, lilies and daylilies, stately summer phlox and tall annuals like cosmos and sunflower.   Little purple cupflowers, sweet William and Drummond phlox spill out over the edges of paths, and everywhere there are self-seeded Johnny-jump-ups.  Vegetables grow cheek-to-jowl with the flowers, with big silver cabbages nestled up against the prettiest of summer flowers and lettuce and Swiss chard lined up in tidy rows near zinnias and yarrow. 
<![if !supportEmptyParas]> <![endif]>
I could go on and on, but let me simply say that Spadina is sheer delight from spring to fall, and should be on the "must-see" list of every gardener. 
<![if !supportEmptyParas]> <![endif]>
Adapted from a story that appeared originally in Toronto Gardens
<![if !supportEmptyParas]> <![endif]>
<![if !supportEmptyParas]> <![endif]>
<![if !supportEmptyParas]> <![endif]>
<![if !supportEmptyParas]> <![endif]>
<![if !supportEmptyParas]> <![endif]>